Updated 01/21/19
You only have until midnight, Tuesday, January 22nd to buy your discounted tickets!
Winterfest will be here before you know it. Tickets and tables are still available at http://www.slsrc.org/shop.
Admission prices will remain $8.00 until midnight January 22nd when the online store closes. Tickets will be $10.00 day of the show.
Come hear our forum speakers talk about AUXCOMM and Amateur Radio.  Click here to see the forum descriptions.
Check out the vendors, club and flea market tables currently registered for Winterfest at http://winterfest.slsrc.org/registered-vendors/.
Thinking about getting an amateur license, or finally getting that upgrade you have been putting off? We have you covered.  Testing will be provided by the Cliff Cave VE Team. Do not forget to bring your proper identifications (one of which must be a photo ID), a copy of your license, if already licensed and $15.00 cash needed for the testing.  Click here for more info.
If you need QSL cards checked, MVDXCC will be there to meet your needs. Make sure to bring your forms already filled out.  Click here for more info.
New amateur radio operators (less than 3 years) stop by the SLSRC club table for free QSL cards! The SLSRC club table will also have mentors available during the hamfest to field questions about everything from rigs and coax to which dipole balun you should buy from your favorite vendor at the show. Come by and see us!
Doors open at 8 AM.
01/20/19
Check out our updated door raffle prize list here!
01/18/19
SLSRC will be sponsoring a new ham "Mentoring Booth" at Winterfest. Don't know what type of coax to purchase? Can't remember if you really need a dummy load? Got a question about what type of radio you should be looking for? We can help answer those questions and many more. Come by the SLSRC club table (located by the raffle barrel) to get some answers. Also, if you're a new ham, we have some starter QSL cards for you with an informational sheet on how to properly fill out a card. Come by the SLSRC club booth and hang out with us at Winterfest, January 26th at Gateway Center in Collinsville, IL. Doors open at 8AM. Go to winterfest.slsrc.org for more information and to purchase tickets.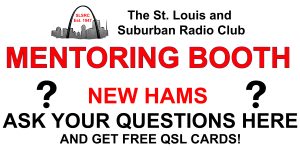 08/01/18
Winterfest 2019 is back at Gateway Center January 26th Saturday 8 AM – 1 PM.  With over 180 vendors, 240 tables and 1000+ attendees.  This one day hamfest is a don't miss opportunity.
Winterfest is held in the large ball room with over 30,000 square feet of space for vendors and flea market tables!  Doors open at 8 AM.  Forums start at 10am.  Check our forums page at http://winterfest.slsrc.org/forums/.
Advance admission ticket sales are available from SLSRC members or on our store page at http://www.slsrc.org/shop/.  Tickets are $8 in advance, $10 at the door.  Raffle tickets are $1 each or six for $5 good for both door and cash prizes.
Vendor tables are $25 per table before Jan 1st, $30 after.
Raffle prizes are $100, $200, $300 and the grand prize is $500 cash.  Do not need to be present to win the large cash prizes.  Cash prices are drawn at 12pm.
Door prizes are given out every hour and you need to be present to win.  Door prize raffle tickets are automatically entered for the cash prizes.
If you have any questions, please contact the Winterfest committee at http://www.slsrc.org/contact-us/